Patrick Jouin, Solid C2 Chair, 2004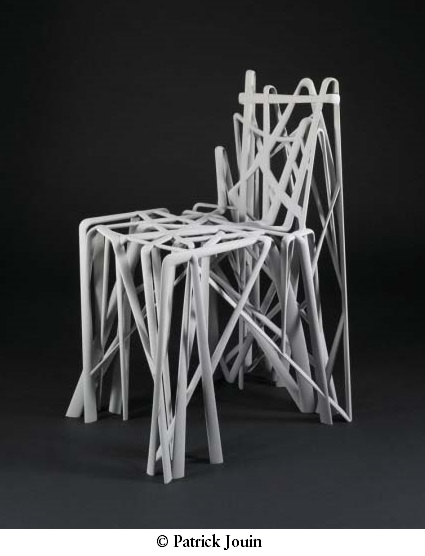 The Work
This chair, or rather this sculpture in the form of a chair, is composed of epoxy resin. According to the artist, he was inspired by nature, especially the blades of grass in a field.
Historical Moment
The beginning of the twenty-first century is an era of experimentation between art and computer technology. In the twentieth century, there were already many examples using photography. Now they may be seen in the creation of three-dimensional objects.
The Genre
Three-dimensional printing is called "stereolithography." The artist draws the image on a computer, which then converts the drawing into a three-dimensional model. A laser hardens the liquid resin when it makes contact, and an object is created by a process of building up layers.
The Artist
Patrick Jouin (born 1967) is an industrial designer. He worked with Philippe Starck, the artist who created the "Louis Ghost Chair" out of transparent plastic. Jouin has also designed interiors for hotels, restaurants, and the most chic fashion boutiques in Paris. His works are found in the collections of the Museum of Modern Art in New York and the Pompidou Center (Museum of Modern Art) in Paris. In 2010, the Pompidou Center held an exhibit entitled "Patrick Jouin – The Substance of Design."