Pierre Bonnard, The Basket of Fruit, 1922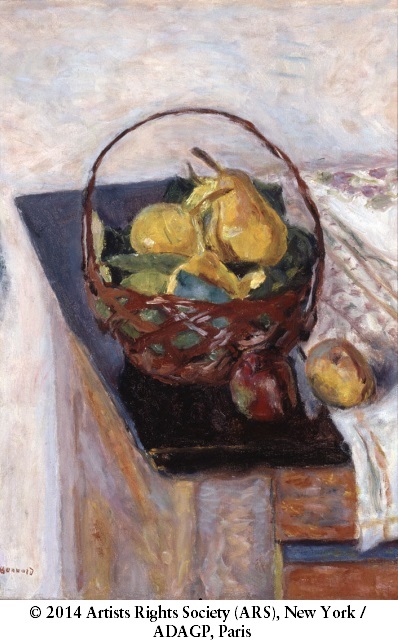 The Work
This still life represents pears and apples in a red basket, on a black tabletop. We see a damask linen tablecloth on the right. The geometry of the table, with diagonal, vertical, and horizontal lines, contrasts with the rounded forms of the fruit and of the wicker basket.
Historical Moment
In 1922, Europe was slowly emerging from the hardships caused by the First World War (1914-18). Even if impressionism was no longer in fashion among younger artists, this style evoked a sense of peace of mind, and still lifes and interior scenes were still popular among art collectors.
The Genre
This artistic style is that of a group of impressionists called "Nabis," a Hebrew word which means "prophets" or "those who are inspired by God." The Nabis were interested in spiritual and symbolic ideas, and some critics called them "post-impressionists." Their works, however, were produced at the same time as some impressionist works, and often in a similar style.
The Artist
Pierre Bonnard (1867-1947) received a degree in law before becoming an artist. He studied at the Paris School of Fine Arts, where he was a co-founder of the Nabis group. They proposed a new method, called "synthesis," based on memory and imagination rather than on direct observation. Bonnard admired Japanese art so much that his contemporaries gave him the nickname of the "Japanese Nabi."