Maurice de Vlaminck, Le Havre: Le Grand Quai, 1906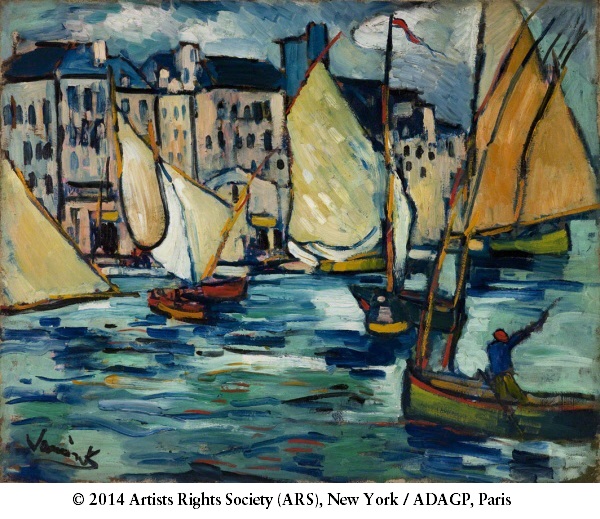 The Work
This scene represents the port of Le Havre, in the northwest of France. The artist is looking out from the dock, but it is not visible in the painting. The primary colors of red, yellow, and blue are noticeable, in the water as well as in the sails and the roofs of the houses.
Historical Moment
By the early twentieth century, a series of World's Fairs (Chicago in 1893, Paris in 1900, and St. Louis in 1904) had introduced many people to the contemporary art being produced in Europe. Galleries encouraged collectors' interest in works considered "avant-garde."
The Genre
Toward the end of the 19th century and the beginning of the 20th, many artists tried to express their personal emotion. They liked subjects of nature and the human body, and sought to find the true essence of these, by using pure colors and simple forms. Certain artists called "expressionists" also considered themselves to be "fauvists." The word "fauve" means "wild beast" in French, and in 1905, an art critic described a show by painters including Matisse and Vlaminck as "a cage of wild beasts." Those artists adopted the term to describe themselves. They used intense colors, strong lines, and shapes that were sometimes childish-looking, which they found to be more "true" and to have more depth of feeling.
The Artist
Maurice de Vlaminck (1878-1958) was a painter in the fauvist and cubist movements. He was a violinist and professional cyclist, in addition to being a painter. Vlaminck was inspired by the painter Vincent Van Gogh (1853-1890), in using colors "straight from the paint tube" and whirlpool effects.