Henri Matisse, Interior in Nice, c. 1920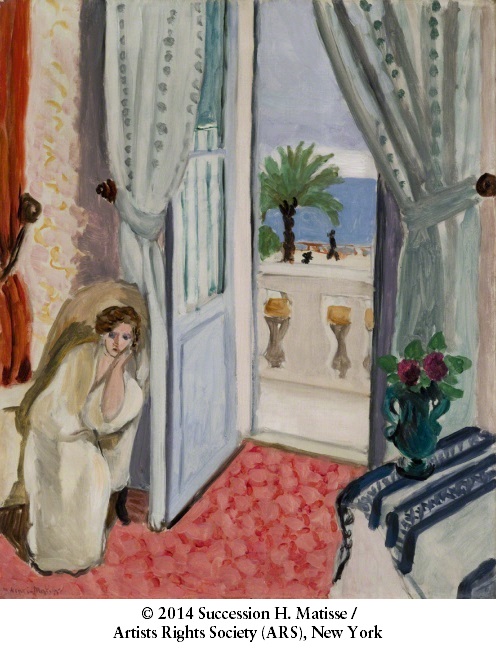 The Work
In this painting, the viewer is inside an apartment, in front of an open door leading to a small balcony overlooking the beach, the sea, and the sky. The curtains gently frame this view, and the composition is balanced by the young woman seated on the left and the vase of roses on the right.
Historical Moment
After the First World War, many artists wanted to restore their physical and mental well-being by spending time in peaceful places. Matisse spent long periods of time in Nice, on the Mediterranean coast, where he made several painting of the ocean, the beach, and interiors like this one.
The Genre
Toward the end of the 19th century and the beginning of the 20th, many artists tried to express their personal emotion. They liked subjects of nature and the human body, and sought to find the true essence of these, by using pure colors and simple forms. Certain artists called "expressionists" also considered themselves to be "fauvists." The word "fauve" means "wild beast" in French, and in 1905, an art critic described a show by painters including Matisse and Vlaminck as "a cage of wild beasts." Those artists adopted the term to describe themselves. They used intense colors, strong lines, and shapes that were sometimes childish-looking, which they found to be more "true" and to have more depth of feeling.
The Artist
Henri Matisse (1869-1954) was considered the leader of the fauvists. His paintings were shown in the New York Armory Show in 1913, and represented the most modern art that had ever been seen. In 1925, Matisse was made a Chevalier of the Legion of Honor. His works include painting, sculpture, drawing, and cut-out watercolor, a form of collage.