Henri Matisse, Bathers with a Tortoise, 1907-08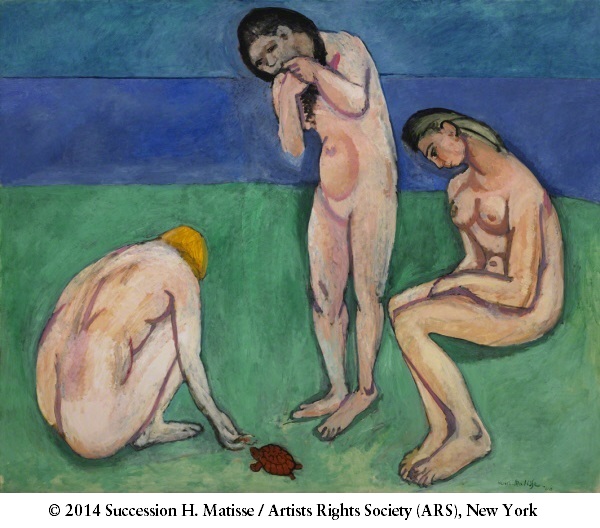 The Work
Three nude women are looking at a small red turtle. Their nudity and the blue background suggest that they are at the beach, but the color behind them is green. The grayish face and gestures of the woman in the center seem to reflect anxiety, but the other women are leaning toward the animal, with curiosity or tenderness.
Historical Moment
By the early twentieth century, a series of World's Fairs (Chicago in 1893, Paris in 1900, and St. Louis in 1904) had introduced many people to the contemporary art being produced in Europe. Galleries encouraged collectors' interest in works considered "avant-garde."
The Genre
Toward the end of the 19th century and the beginning of the 20th, many artists tried to express their personal emotion. They liked subjects of nature and the human body, and sought to find the true essence of these, by using pure colors and simple forms. Certain artists called "expressionists" also considered themselves to be "fauvists." The word "fauve" means "wild beast" in French, and in 1905, an art critic described a show by painters including Matisse and Vlaminck as "a cage of wild beasts." Those artists adopted the term to describe themselves. They used intense colors, strong lines, and shapes that were sometimes childish-looking, which they found to be more "true" and to have more depth of feeling.
The Artist
Henri Matisse (1869-1954) was considered the leader of the fauvists. His paintings were shown in the New York Armory Show in 1913, and represented the most modern art that had ever been seen. In 1925, Matisse was made a Chevalier of the Legion of Honor. His works include painting, sculpture, drawing, and cut-out watercolor, a form of collage.