Hector Guimard, Tea Table, 1907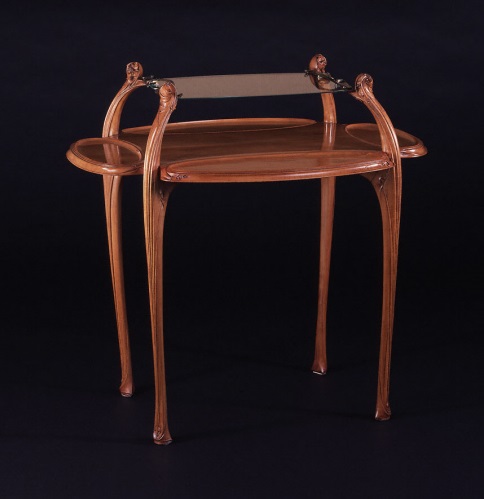 The Work
This small table was intended for serving tea. A glass platter on top can be detached from the wooden table below it. This table comes from the Hotel Guimard, the personal residence of the artist and his wife in Paris. It was located in the dining room.
Historical Moment
In anticipation of the Universal Exposition of 1900 in Paris, the city invited architects to design the entrances of the Metropolitan Train, which would be inaugurated at the time of the fair. Hector Guimard won this competition. His Metro entrances have remained symbols of "Parisian style."
The Genre
This style, associated with the early twentieth century, celebrates the artist's individuality in contrast to the industrialized modern society. Painting, architecture, and decorative arts work together to create domestic environments of great beauty and originality. The style is characterized by the organic quality of its curved lines. Among the most famous artists of this movement are Alphons Mucha, Victor Horta, Émile Gallé, and Louis Majorelle.
The Artist
Hector Guimard (1867-1942) is recognized as the leader of the Art Nouveau movement in France. Before achieving success with the Paris Metro, he had built the Castel Béranger in the Auteuil neighborhood (16th district) in Paris. He designed not only houses, but also furniture and other decorative objects.