Édouard Vuillard, The Art Dealers, 1908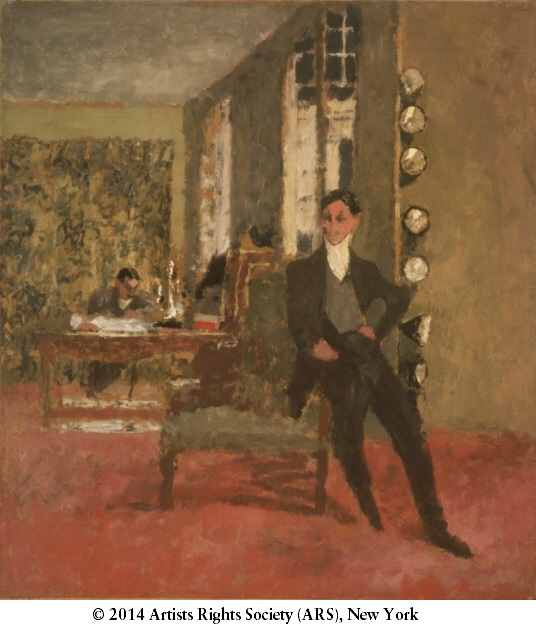 The Work
This painting is a double portrait of two brothers, Josse and Gaston Bernheim-Jeune, who were art dealers in Paris. We see them in their gallery, with electric lights on the wall to illuminate the artworks. In the foreground, Gaston is sitting in a nonchalant way on the arm of a chair, while in the background, Josse is seated behind a desk. Neither one is looking at the artist, as if they were unaware of his presence as an observer.
Historical Moment
The relationship between artists and art galleries was very important in this time, as it still is today. An influential dealer could assure an artist's success, especially in regard to those who were working in an avant-garde style, against the popular taste of the general public.
The Genre
This movement is that of a group of impressionists called "Nabis," a Hebrew word which means "prophets" or "those who are inspired by God." They were interested in spiritual and symbolic ideas, and some critics have called them "post-impressionists." Their works, however, were produced at the same time as some impressionist works, and often in a similar style.
The Artist
Édouard Vuillard (1868-1940) was born in Paris, and studied at the School of Fine Arts. He began painting in a realistic style, but later he was influenced by the Nabis. They proposed a new method, called "synthesis," which is based on memory and imagination rather than on direct observation. Vuillard created theatrical scenery and decorative panels for private homes. He also had a large collection of Japanese art, in which he found inspiration.