Aristide Maillol, Venus with Necklace, 1928-29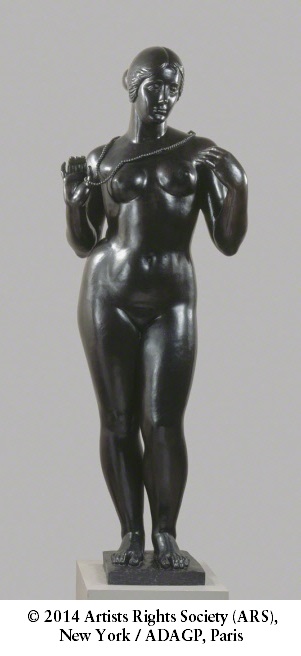 The Work
This statue is life-sized. The goddess of beauty is nude, and wears only a pearl-like necklace around her neck, which she is holding with her right hand.
Historical Moment
In 1925, Paris was again the site of a world's fair. The International Exposition of Decorative and Modern Industrial Arts inspired the term "art deco." This style preferred geometric forms over the curved lines of the earlier style of "art nouveau," and human figures often emphasized their physical vigor.
The Genre
Maillol was part of the painters' group of the "Nabis" (or prophets). When he became a sculptor, he was inspired by the classicism of ancient Greece. His female nudes lean towards abstraction and represent allegorical themes. The River (1938), which is in the Citygarden of St. Louis, is an allegory not only of a geographical feature, but also of the suffering caused by war. Many art critics consider Maillol to be the first modern sculptor.
The Artist
Aristide Maillol (1861-1944) was born in the Eastern Pyrenees region, in a Catalán family. He studied at the Paris School of Fine Arts, with the painter Gérôme. He only began to make sculpture at the age of forty. His works were exhibited in the important gallery of Ambroise Vollard, and received praise from the sculptor Auguste Rodin.