Philippe de Champaigne, Vincent Voiture as Saint Louis, c. 1640-48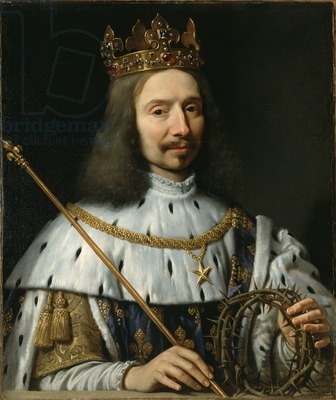 The Work
Vincent Voiture (1597-1648) was a poet who was greatly admired by the members of the French court.  Champaigne made this portrait during the poet's lifetime.  An engraving of this portrait accompanied the publication in 1650 of a book of his poems, after his death.  A few years later, Voiture's daughter Madeleine entered a convent to become a nun.  She wanted to keep her father's portrait with her.  However, because she was allowed to keep only artworks with religious subjects, Champaigne retouched the painting to add a royal crown and robes, a scepter, and Christ's crown of thorns, a relic associated with Saint Louis.  In this way, Madeleine was able to keep her father's portrait with her, under the identity of the saint.
Historical Moment
During the years between 1649 and 1653, when King Louis XIV was a young boy, there was a revolt by some nobles against the absolutist authority of the government that had been created by Cardinal Richelieu.  This revolt was called the Fronde.  By choosing Saint Louis as the posthumous identity for Voiture, Champaigne was declaring his loyalty to the young king, who had the same name as King Louis IX, Saint Louis.
The Genre
According to x-rays taken of the painting, we know that the original portrait of Voiture showed him wearing black clothes with a large white collar.  The position of his right hand was natural for holding a pen, which was a suitable object to associate with a writer.  The changes made after the poet's death do not alter the gentleness of his expression, but a scepter is held differently from a pen.
The Artist
Philippe de Champaigne (1602-1674) was born into a poor family in Brussels, in modern-day Belgium.  After apprenticing with a painter, he arrived in Paris in 1621.  He was highly admired for his realistic portraits, and obtained important patrons such as the Queen Mother Marie de Medici, Cardinal Richelieu, and King Louis XIII.  In 1648, Champaigne was one of the founding members of the new Royal Academy of Painting and Sculpture, created by order of Louis XIV.