François Girardon, Louis XIV, King of France, 1690s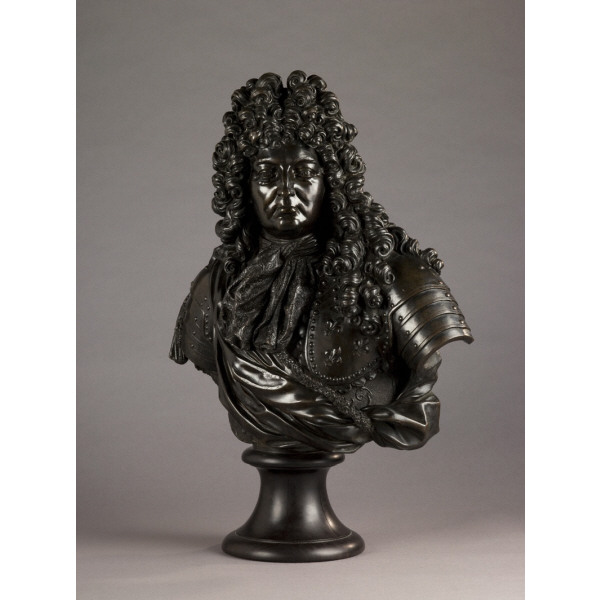 The Work
This bust uses several techniques to inspire the viewer's admiration : the fleur-de-lis on the chest suggest royal rank, the armor indicates military strength, the lace scarf is a sign of wealth, and the eyes turned to the left suggest the "visionary gaze" or contemplation of a profound thought. The strong chin and impressive hair are signs of virility.
Historical Moment
Louis XIV (born in 1638, became king in 1643, died in 1715) exemplified "absolute monarchy." He centralized power under the authority of the king, and after 1685, he established his court at the palace of Versailles. Many artists portrayed him with the features of a Roman general or the gods Mars or Apollo, and from the latter he acquired the nickname of "the Sun King." At the time of this portrait, he was more than fifty years old, an age considered at the time to be elderly.
The Genre
The bust imitates sculpted portraits from antiquity, and reinforces the association between Louis XIV and the Roman emperors. Bronze gives permanence to the portrait and is a reminder of the many images of Louis XIV on commemorative medals of the time, which celebrate his military conquests and acts of generosity.
The Artist
François Girardon (1628-1715) was Louis XIV's favorite sculptor. His mastery of technique put him in the top rank of artists. It is interesting to note that he and Louis XIV died on the same day, September 1, 1715.