Claude Lorrain, Villagers Dancing, late 1630s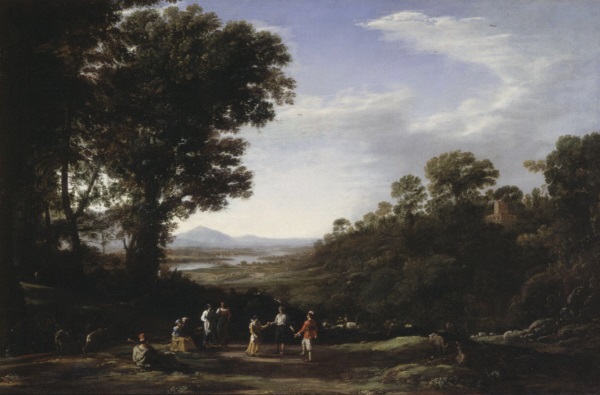 The Work
In an idealized scene, villagers are celebrating a holiday by dancing. The main interest of the painting is in the landscape, the enormous trees framing the river, and the distant mountains, rather than in the people. The effects of light and shadow are very important, with a nearly-white sky in the center of the painting.
Historical Moment
In the seventeenth century, a vast quantity of artworks was commissioned for the decoration of churches, royal palaces, and the houses of the nobility. The technical quality of the artwork, and the importance of its subject, reflected the education and good taste of the person who commissioned it.
The Genre
The most highly regarded category of painting dealt with subjects from mythology or the Bible, and was called "history painting." It was usually done in a large format. Here the artist seems to represent contemporary people, but similar scenes could also contain imaginary shepherds of antiquity, or characters from mythology. The balance of its composition and the subtlety of the colors contribute to a harmonious and peaceful mood.
The Artist
Claude Gellée (v. 1604-1682) is known by the name of "Lorrain" because of the province where he was born. He learned to become a pastry cook, and he is believed to have invented puff pastry. At the age of fourteen, he went to Rome to become a cook for the painter Agostino Tassi. He first assisted the artist in his studio, and later received painting lessons from him. Lorrain became famous for his luminous landscapes and harbor scenes. His works greatly influenced many landscape artists who came after him.