Jean Pénicaud III, Alexander Giving Money to the Priests of Ammon, late 16th century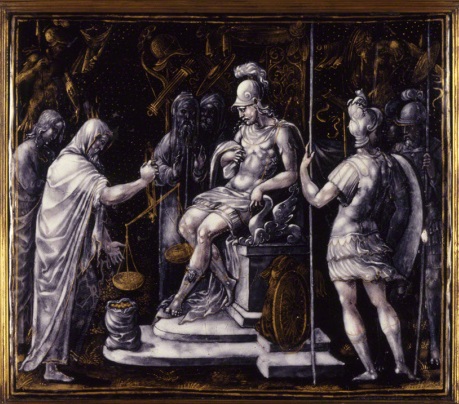 The Work
This work of enamel and gold on copper has very small dimensions. However, it is as detailed as a much larger painting. The technique of "grisaille" (painting in black and gray) makes the figures resemble stone sculptures. The subject of the work is the emperor Alexander the Great (born in 356 b.c.e., died in 321 b.c.e.). In 331 b.c.e., Alexander travelled to Egypt, and laid out the site of the future city of Alexandria. When he visited the priests of Ammon-Zeus, a Greco-Egyptian god, one of the priests called Alexander the "son of Zeus." In this scene, the emperor shows them his appreciation.
Historical Moment
Near the end of the 16th century, France was divided by political tensions and even by violent fighting between Catholics and Protestants. This work tells the story of the legend according to which the sovereign was descended from a god, which could be a reminder of the belief that the French king reigned by divine right, that is, with the blessing of God. This subject could be pleasing to either side in the religious wars.
The Genre
Miniature art of this quality was reserved for the very wealthiest people. Its small size indicates that the work was displayed in a private room, intended to be seen only by the man or woman who owned it.
The Artist
Jean Pénicaud III (active around 1573-1606) came from a family of enamel artists and painters in Limoges, in the Limousin region of central France. The region was famous for the artistic production of enamels, and later became famous for porcelain.