François Clouet, Admiral Gaspard II de Coligny, 1565-70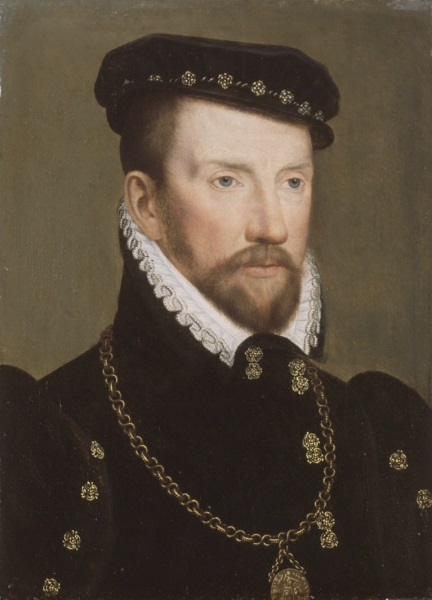 The Work
The subject of this portrait was a very important man in the political affairs of his time. His clothes indicate wealth, but in a discreet way. His cap of black velvet has touches of gold thread and pearls. The man wears a gold chain, and his white collar is decorated with delicate lace. We see determination in his serious expression, but his pale and lined face suggests fatigue. The portrait is fairly small, which suggests that it was not commissioned to be hung in a salon where guests would be received, but rather in a private room.
Historical Moment
In the second half of the 16th century, France was divided by political tension and even violent combat between Catholics and Protestants. Admiral Coligny (1519-1572) was a Huguenot, a member of the Protestant sect that the Catholic monarchy was trying to suppress. A few years after this portrait, in 1572, he would be assassinated, having been betrayed by one of his Huguenot colleagues. When this portrait was painted, he was already aware that his life was in danger, but his sense of honor and religious faith inspired him to continue the fight.
The Genre
In the 16th century, the portrait was a way of preserving not only the appearance of a person, but his or her social rank and identity in relation to others. Artist were very attentive to the tactile qualities of cloth and jewels, and people of noble rank were shown with pale, smooth skin, to indicate their refinement.
The Artist
François Clouet (c. 1516-1572) was the most important portrait artist of his generation. The son of the painter Jean Clouet, he was highly sought after by nobles who wanted him to paint their portrait, because of his realistic style and technical skill.