Sophie Lienard, Louis-Philippe, Duc d'Orléans, King of France, middle of 19th century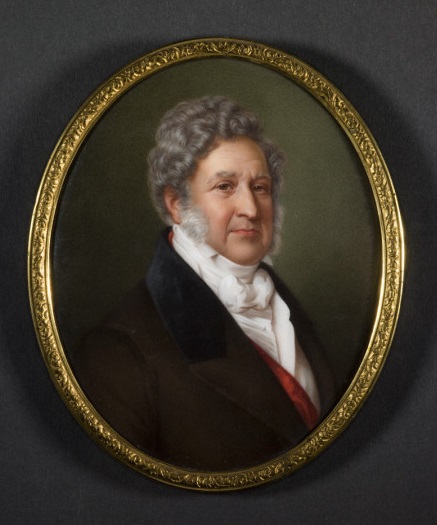 The Work
This is a miniature portrait. It is made of enamel on porcelain, in an oval frame of gilded metal. The portrait shows a very dignified man with curly gray hair. The only indication of his royal blood is the discreet red sash on his chest.
Historical Moment
Louis-Philippe (1773-1850) was the last French king. He was named king during what is called the "July Monarchy." This portrait was probably a copy of a large oil painting by Franz Xaver Winterhalter, an official painter at the court of Louis-Philippe. Winterhalter also made portraits of Queen Victoria of England.
The Genre
The miniature portrait was known since the Renaissance. It was often an object given as a sign of affection, exchanged between spouses or friends, and which could be worn on clothing like a jewel. The realistic technique represents the traditional values of the Academy of Fine Arts, sometimes called "academic style." In addition, the extraordinary difficulty of painting with very delicate brushes required the use of a magnifying glass in order for the artist to see the details of the image.
The Artist
Sophie Lienard, who died in 1845, was a miniaturist who worked in Paris. She exhibited works at the Paris Salon between 1842 and 1845.