Rosa Bonheur, Relay Hunting, 1887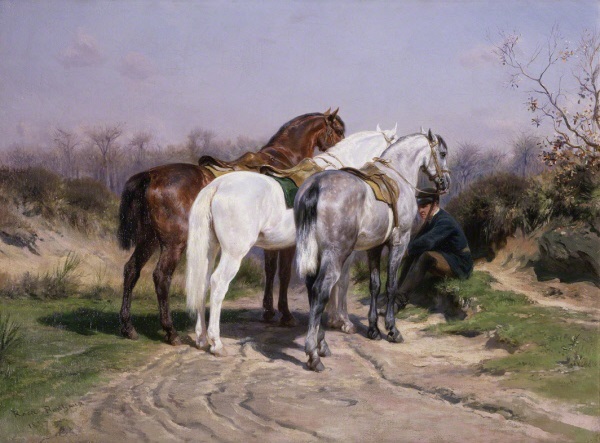 The Work
This painting shows three horses, waiting their turn in a relay hunt.  The luminous white color of the horse in the center stands out against the brown and gray of its companions.  The unusual angle, viewing the horses from behind, seems to place the viewer physically in the scene, like someone approaching them on foot.
Historical Moment
The 1880s, under the Third Republic, were a time of prosperity in France.  Hunting was a popular amusement among the nobles, and a hunter would often ride several horses during the day, in order to prevent each one from becoming exhausted.
The Genre
Artists of the naturalist style favored subjects from everyday life, shown in a realistic manner.  One popular genre was the depiction of animals, such as cows or horses.  In this type of "animal painting," people played a secondary role, and the viewer's attention was drawn to the form and movement of the animals.
The Artist
Marie-Rosalie Bonheur (1822-1899), called Rosa, was born in Bordeaux.  The daughter of a painter, she showed great talent from an early age, and at nineteen, she exhibited a painting in the Paris Salon of 1841.  She won a gold medal in the Salon of 1848, and quickly gained international fame.  Her animal paintings were much admired by contemporary artists and by influential people such as Empress Eugenia and Queen Victoria of England.  In 1864, she was the first female artist to be named a Knight in the Legion of Honor, and in 1894, she was the first woman to be named an Officer of this order.  Bonheur was a woman of independent and modern ideas, and she resisted the customs of the time by wearing pants in public.