Pierre-Auguste Renoir, The Dreamer, 1879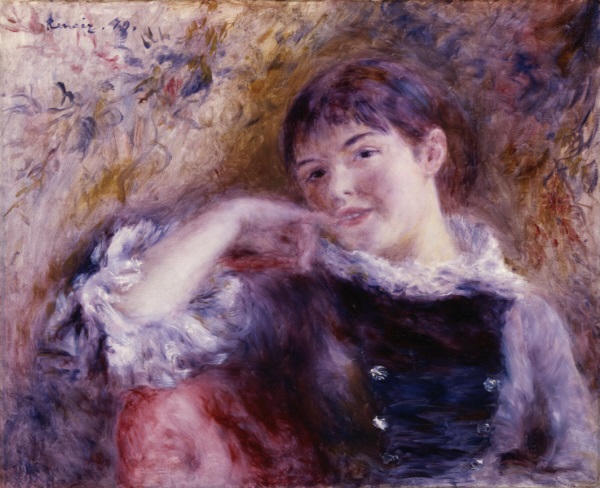 The Work
This portrait of a young woman evokes beauty and sensuality. Her tilted head, her direct gaze at the viewer and her gesture of bringing her little finger towards her mouth suggest flirtation. The background is an abstract study of colors, which could represent flowered wallpaper, or could be a visual metaphor for the girl's dream.
Historical Moment
At the time of this painting, Renoir had developed his own impressionist style. He preferred scenes with people, such as The Ball at the Moulin de la Galette (1876). He had his first success at the Paris Salon in 1879, which brought an end to several years of poverty.
The Genre
The impressionist movement was a revolt against the academic tradition. Instead of representing objects in a realistic manner, with precise lines and perspective, artists sought to capture a moment of experience as it was lived. They left the studio to paint outdoors, and tried to re-create effects of light with soft brushstrokes and bright colors.
The Artist
Pierre-Auguste Renoir (1841-1919) was born in Limoges. He was the son of Léonard Renoir, a tailor who moved his family to Paris. When he was thirteen, Pierre-Auguste became an apprentice in a porcelain workshop, and he took classes in art and music. In 1862, he was admitted to the School of Fine Arts in Paris, but he did not stay there for long. He became a member of the painter's circle that included Monet, Caillebotte, and Sisley, who introduced him to outdoor painting. Today Renoir's work is considered to be part of the impressionist movement, but he adopted several different styles throughout his very long career.