Pierre-Auguste Renoir, Léonard Renoir, the Artist's Father, 1869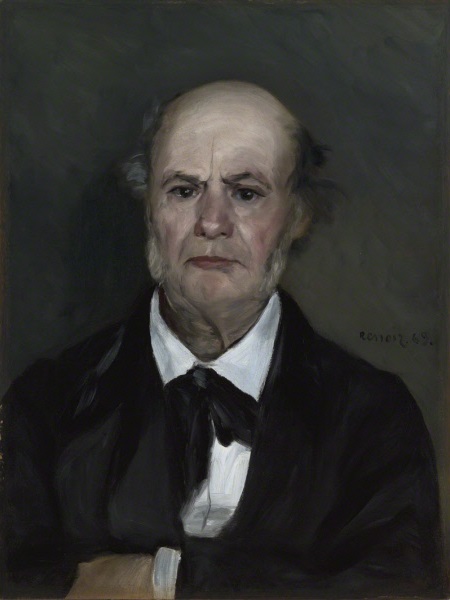 The Work
The artist made this portrait of his father with a serious expression, and his left arm is held across his chest. His face and neck are lined, and his bald head also reflects his advanced age. However, his direct gaze at the viewer (his son, the artist) sparkles with intelligence. The style of the portrait is very realistic, which seems to be a mark of respect toward the subject, who does not seem to want to be idealized.
Historical Moment
In 1869, Renoir had rejected academic style and was working with the future impressionists, but his style in this portrait reflects the technique that he had acquired. His father was 70 years old at the time, and it is possible that the style of the portrait seeks to please the taste of his aging parents, rather than his own preferences.
The Genre
Around the middle of the nineteenth century, many artists reacted against romanticism, which emphasized imaginary and idealized scenes. They made works about daily life, shown just as it was, without embellishment. This movement is called "naturalism" or "realism."
The Artist
Pierre-Auguste Renoir (1841-1919) was born in Limoges. He was the son of Léonard Renoir, a tailor who moved his family to Paris. When he was thirteen, Pierre-Auguste became an apprentice in a porcelain workshop, and he took classes in art and music. In 1862, he was admitted to the School of Fine Arts in Paris, but he did not stay there for long. He became a member of the painter's circle that included Monet, Caillebotte, and Sisley, who introduced him to outdoor painting. Today Renoir's work is considered to be part of the impressionist movement, but this painting does not belong to that category.