Paul Gauguin, Madame Roulin, 1888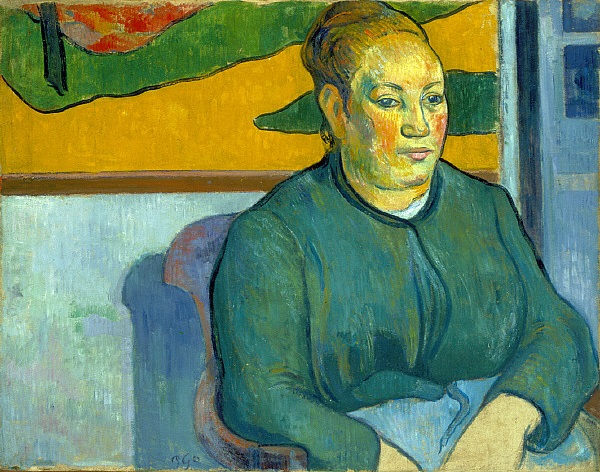 The Work
This portrait shows a woman with a calm and pensive air. She possesses a simple beauty, without any ornamentation of clothing or hairstyle. She is offset from the center of the image, and her hair and hands extend beyond the visual frame. She seems to be looking in the direction of the light that creates a shadow behind her chair. There is a diagonal line between that shadow and her face, which looks yellow from the sunlight, and this echoes the yellow diagonal in the painting on the wall.
Historical Moment
In 1888, the painter made a trip to Arles, in the south of France. He made this portrait of Madame Augustine Roulin, the wife of the village postman, when she was thirty-seven years old. The painting on the wall is The Blue Trees, which Gauguin painted during this time. Vincent van Gogh also made portraits of Madame Roulin, as part of a series of paintings of the postman's entire family.
The Genre
The movement of expressionism uses geometric forms and bright colors, sometimes leaning towards abstraction. In contrast with impressionism, artists did not seek to capture visually a moment of life, but rather to suggest an emotional aspect of the subject. These paintings sometimes reflect the influence of japonisme, which is the imitation of Japanese artworks, often woodblock prints, with clean lines surrounding blocks of color.
The Artist
Paul Gauguin (1848-1903), who worked at the Paris stock exchange, lived a middle-class life with a wife and five children. He dedicated himself to painting in 1882, but without financial success. Leaving his family with his parents-in-law in Denmark, he began to travel. After his stay in Arles, where he became friends with Vincent van Gogh, he spent long periods of time in Polynesia. His paintings of the native people and landscapes made him famous to future generations, and influenced the Fauvists of the twentieth century.