Paul Gauguin, Landscape with a Horse, 1899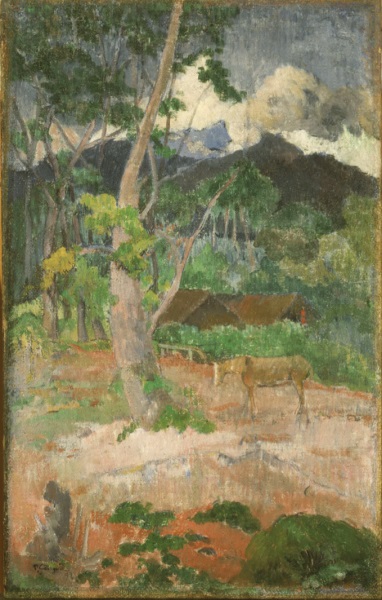 The Work
This painting was done with oil paint on burlap wrapping cloth, which adds to the rustic appearance. We see a landscape with a large tree-trunk in the foreground, a horse in the middle, farther away some native huts, and a background of mountains. In this work, the painter uses a variety of styles, sometimes vague patches and sometimes clean lines. The natural elements near the bottom are difficult to distinguish, but the horse is drawn with precision. The soft colors of the landscape contrast with the visual drama of the dark mountains against the white clouds.
Historical Moment
In 1899, Gauguin was living in Polynesia, having permanently left behind his life in Europe. He died in 1903, in Atuona, a village in the Marquesas Islands.
The Genre
The movement of expressionism uses geometric forms and bright colors, sometimes leaning towards abstraction. These paintings also sometimes reflect the influence of japonisme, which is the imitation of Japanese artworks. In this case, the work's vertical composition suggests an Asian scroll.
The Artist
Paul Gauguin (1848-1903), who worked at the Paris stock exchange, lived a middle-class life with a wife and five children. He dedicated himself to painting in 1882, but without financial success. Leaving his family with his parents-in-law in Denmark, he began to travel. After his stay in Arles, where he became friends with Vincent van Gogh, he spent long periods of time in Polynesia. His paintings of the native people and landscapes made him famous to future generations, and influenced the Fauvists of the twentieth century.