Paul Cézanne, Bathers, 1890-92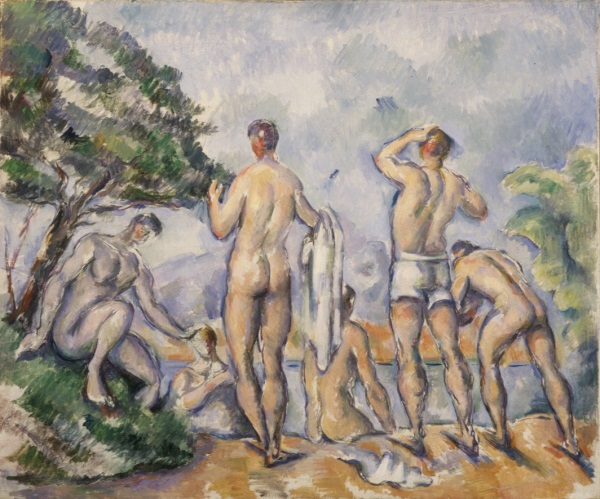 The Work
This painting shows a group of men who are preparing to bathe or swim in a river. The disproportionate figures, with small faceless heads, suggest that the artist was reacting against the anatomical perfection admired by the Academy. Instead, this is a study of colors and movements, with visible brushstrokes. In the background, we can vaguely see Mount Sainte-Victoire, to which Cézanne devoted a series of paintings.
Historical Moment
Cézanne's father died in 1888, and he inherited a sum of money sufficient for living comfortably. His works, however, had not yet been featured in an exhibition. This would take place in 1895, at the gallery of the Parisian dealer Ambroise Vollard. At the moment of this painting, Cézanne was therefore still an unknown artist. This painting was shown in Vollard's gallery, and was purchased by the painter Claude Monet in 1906, a few months before Cézanne died.
The Genre
The movement of expressionism uses geometric forms and bright colors, sometimes leaning towards abstraction. This painting is also impressionistic, in the sense that it seeks to capture visually a moment of experience.
The Artist
Paul Cézanne (1839-1906), the son of a banker, was born in Aix-en-Provence, and he later studied law there. In addition, he took courses at the School of Drawing. In 1869, he went to Paris, where he made friends with impressionist painters, but a few years later he returned to the south of France. He was very interested in color and in volume, for example in still lifes, and he is considered to be a forerunner of cubism.