Louise-Adéone Drölling, Interior with Young Woman Tracing a Flower, c. 1820-22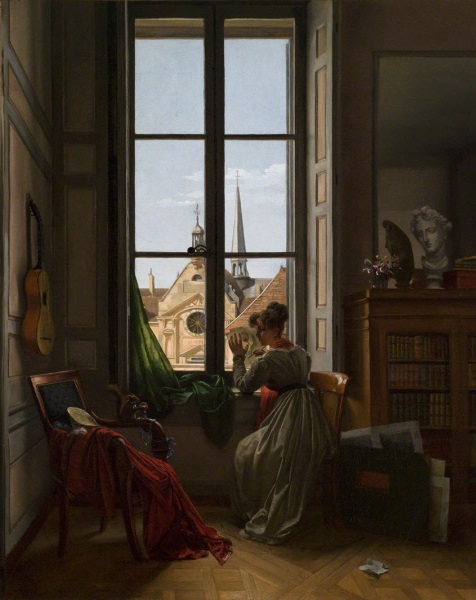 The Work
In this painting, a young woman is tracing the shape of a flower against the glass of a tall window. One of the accepted activities of a young woman of the upper middle class was to draw flowers, in addition to reading, embroidery, and playing a musical instrument. The girl has turned her head to look at her pet, which is a squirrel. The animal has perhaps cracked a nut, and the noise has distracted the girl.
Historical Moment
After the final defeat of Napoleon in1815, the French monarchy was restored under King Louis XVIII. France regained peace and prosperity, and the middle class grew larger. Women artists became more numerous.
The Genre
Scenes of everyday life were very popular in the 18th and 19th centuries, with a realistic setting and people carrying out familiar tasks. The portrait or self-portrait was a genre considered appropriate for women artists, while historical or religious painting was reserved for men.
The Artist
Louise-Adéone Drölling (1797-1831) was born in Alsace. Her father and brother were painters. She presented this painting to the Royal Salon of Painting and Sculpture in 1827, and the work received a Gold Medal. The painting was purchased by the Duchess de Berry, who had a prestigious art collection.