Jules Breton, The Wounded Sea Gull, 1878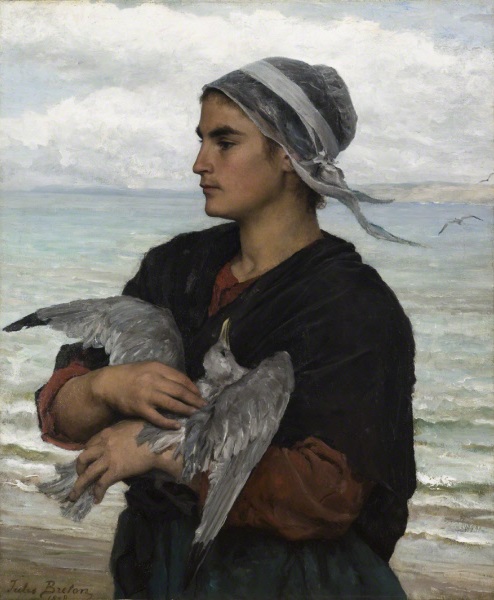 The Work
This painting shows a realistic image of a young Breton woman on the seashore. She is holding in her arms a bird that seems to be looking up at her, but she is looking at something far away, or dreaming of something invisible. The painting suggests a romantic story, in which the woman's compassion may be inspired by heartache for an absent or deceased lover. The life of sailors and fishermen was very dangerous.
Historical Moment
In 1878, the world's attention was drawn to France for the Universal Exposition (World's Fair) in Paris. Painters who could combine the stylistic realism of the Academy with sentimental subjects found a large and admiring public.
The Genre
Around the middle of the nineteenth century, many artists reacted against romanticism. They made works about daily life, shown just as it was, without embellishment. This movement is called "naturalism" or "realism." Romanticism, however, remained very popular, and there were many works which seem to have elements of both movements.
The Artist
Jules Breton (1827-1906) was a recognized poet whose literary works were admired by Victor Hugo. He was elected to the Academy of Fine Arts in Paris, in 1886. He is considered part of the second generation of painters of the Barbizon School, but his works also show the influence of romanticism. This may be seen in idealized images of peasants.