Jean-Baptiste-Camille Corot, Girl with a Mandolin, 1860-65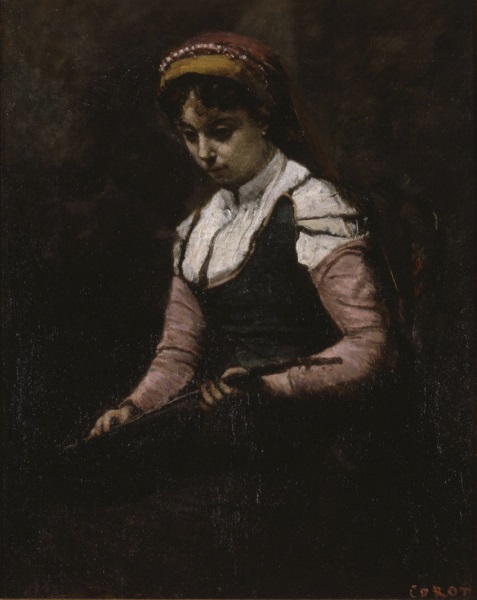 The Work
This painting is the portrait of a young woman, who seems to look at the musical instrument without playing it. This inspired the title of "The Dreamer," although we do not know if this was the title given by the artist. The contrast between light and dark is reminiscent of works of the 17th century, and the Italian costume worn by the girl creates a theatrical look. Corot is best known as a painter of outdoor scenes with peasants, but this work, which was created in a studio with a posed model, shows that an artist can resist labels.
Historical Moment
During this time, France was under the Second Empire, ruled by Napoleon III. The 1860s were a period of prosperity and economic development, which sustained the careers of many artists.
The Genre
Around the middle of the nineteenth century, many artists reacted against romanticism. They made works about daily life, shown just as it was, without embellishment. This movement is called "naturalism" or "realism." The "Barbizon School" was the name given to a group of painters who lived for a while in the village of Barbizon, near the Fontainebleau forest, and who loved to paint landscapes and peasants.
The Artist
Jean-Baptiste Camille Corot (1796-1875) was born in Paris, to a family of merchants. He was able to pursue a career as a painter thanks to the financial support of his parents. Corot is considered to be one of the founders of the Barbizon School, and he had an important influence on the Impressionists. His works include a wide variety of styles and techniques.