Jean-Baptiste-Camille Corot, The Beach, Étretat, 1872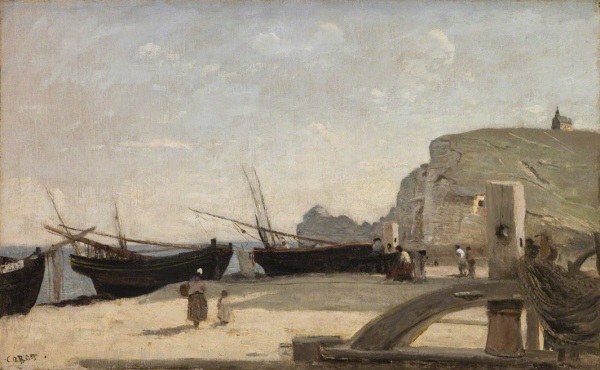 The Work
This painting shows boats on the beach of a small town in Normandy which was popular in the summertime. We see in the background the cliff of Amont, with a small chapel on the top right. The boats are caïques, fishing boats that have been used since the time of the Vikings.
Historical Moment
In 1872, France was emerging from a period of turmoil, after the Franco-Prussian War and the Revolt of the Commune. The artist, who was then 76 years old, travelled through France, in spite of having problems with his health. He may have been seeking subjects that were calm and far removed from any politics.
The Genre
Around the middle of the nineteenth century, many artists reacted against romanticism. They made works about daily life, shown just as it was, without embellishment. This movement is called "naturalism" or "realism." The "Barbizon School" was the name given to a group of painters who lived for a while in the village of Barbizon, near the Fontainebleau forest, and who loved to paint landscapes and peasants.
The Artist
Jean-Baptiste Camille Corot (1796-1875) was born in Paris, to a family of merchants. He was able to pursue a career as a painter thanks to the financial support of his parents. Corot is considered to be one of the founders of the Barbizon School, and he had an important influence on the Impressionists. His works include a wide variety of styles and techniques.