Gustave Doré, Loch Lomond, 1875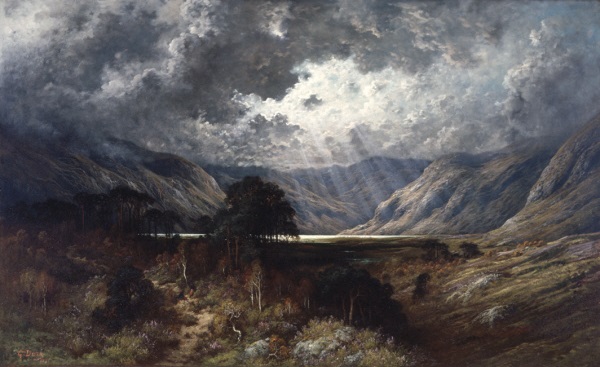 The Work
This very large painting shows several scenes. In the foreground, on the lower left, we see a rocky trail with two tiny figures. The largest part of the painting is devoted to a dramatic view of the loch (a lake, in the Scottish language) surrounded by mountains. The surface of the loch is a thin white band, reflecting the visible rays of the sun penetrating through stormy clouds. The painting seems to evoke the traditional ballad Loch Lomond, of which the refrain is "you'll take the high road and I'll take the low road, and I'll be in Scotland afore ye." The song tells the story of two young soldiers, one of whom is dying and will therefore reach Heaven (for which Scotland is a metaphor) before his friend.
Historical Moment
The Third Republic (1870-1914) was a time of peace in France. The fine arts flourished, with an educated middle class that wanted to acquire works of art. Romantic subjects, inspired by historical and literary tradition, remained popular until the beginning of the first World War.
The Genre
Romanticism was a movement that began near the end of the 18th century and had its strongest impact in the 19th century. Artists sought to engage the viewer's emotions with exotic settings and dramatic effects of color and light. The image sometimes told a familiar story from literature, and the word "romantic" derives from the word "roman" in French, meaning "novel" in English, a literary work of fiction.
The Artist
Gustave Doré (1832-1883) was born in Strasbourg and later lived in Paris. While very young, he showed a talent for drawing, including caricature. He became a well-known painter, engraver, and illustrator, and made very famous illustrations for the Works of Rabelais, the Fables of La Fontaine, and the Fairy Tales of Perrault, among many other books.