Gustave Courbet, The Greyhounds of the Comte de Choiseul, 1866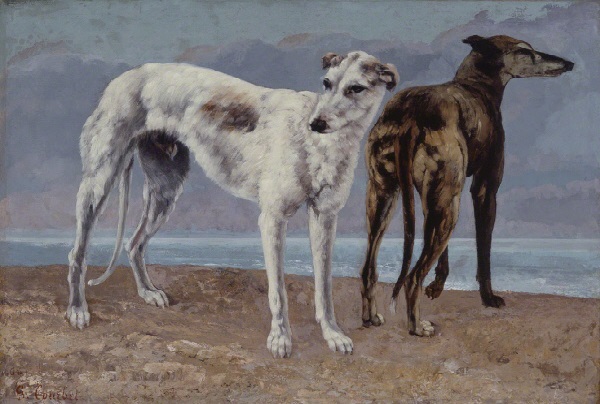 The Work
We see here two dogs in a place that they know well, a beach under a stormy sky. In this double portrait, the artist represents not only the elegant appearance of these animals, but also their two distinct personalities. One of the dogs is looking a little timidly at the viewer, while the other one is looking at something outside of the scene.
Historical Moment
Courbet spent the summer of 1866 in Deauville, on the Normandy coast, as the guest of the Count de Choiseul. During his stay, he made a portrait of the count's two greyhounds, who may have been racing dogs. From the 18th century onward, animal portraits were fashionable, allowing a wealthy person to preserve the memory of a beloved dog or horse.
The Genre
Around the middle of the nineteenth century, many artists reacted against romanticism. They made works about daily life, shown just as it was, without embellishment. This movement is called "naturalism" or "realism," even if the style does not imitate the technical realism favored by the Academy.
The Artist
Gustave Courbet (1819-1877) studied both law and fine arts, finally choosing a career in the latter subject. From the 1840s onward, he was part of the bohemian life in Paris, and considered himself to be an artistic and political rebel. Courbet used the term realism to describe his own style, and did not hesitate to shock the viewer with untraditional subjects like burials or sexualized female nudes.