Eugène Boudin, The Beach at Trouville, 1869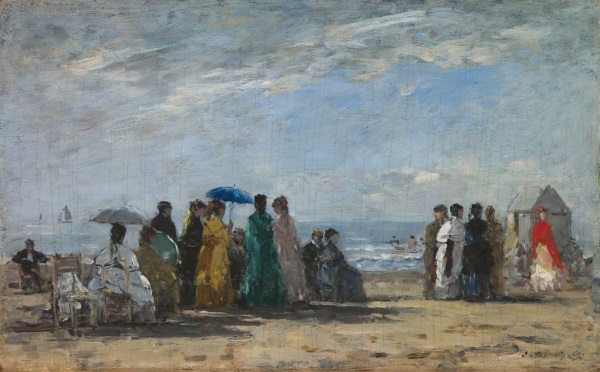 The Work
This painting shows a group of people, mostly women, on the beach. They are protecting themselves against the sun with parasols, they are wearing fashionable clothes in bright colors, and they are seated on wooden chairs. The cabana on the right and the heads of a few swimmers in the sea suggest that the weather is warm.
Historical Moment
In 1869, France was shaken by political turmoil that would lead to the Franco-Prussian War and the Revolt of the Commune. However, people continued to visit the seaside, and Trouville in Normandy was a popular destination.
The Genre
Around the middle of the nineteenth century, many artists reacted against romanticism. They made works about daily life, shown just as it was, without embellishment. This movement is called "naturalism" or "realism." Artists also began to leave their studios, to paint outdoors. This allowed them to capture atmospheric effects with techniques that became more rapid and less detailed.
The Artist
Eugène-Louis Boudin (1796-1875), the son of a sailor, was born in Honfleur, in Normandy. While working in a stationery shop, he met artists who encouraged him, and he dedicated himself to painting after 1846. He specialized in paintings that showed the sea and beaches, with striking effects of light. Camille Corot called him "the king of skies." He is considered to be an important influence for the Impressionists.