Édouard Manet, The Reader, 1861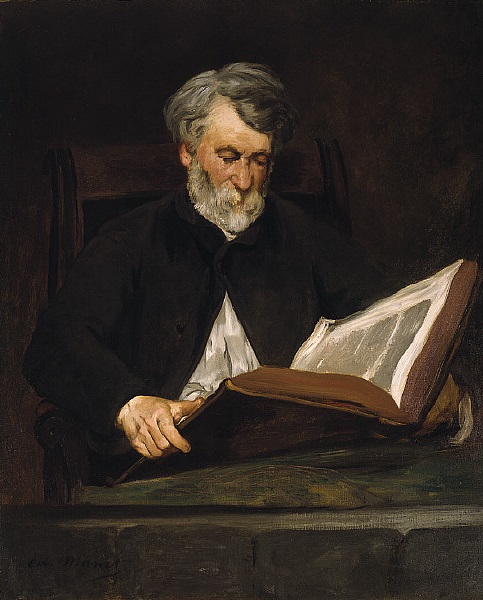 The Work
The artist made this portrait of his friend Joseph Gall, another Parisian painter. The large size of the book, in folio format, suggests that it is a very old book, from the man's own library. The absence of details in the clothing gives a timeless quality to the portrait, which could have been made in the 17th or 18th centuries as well as in the nineteenth century.
Historical Moment
This portrait predates the works by Manet that created a scandal. Manet had ended his studies (1850-56) with the painter Thomas Couture, who favored the academic style. He had just recently exhibited his first paintings, in 1860.
The Genre
Around the middle of the nineteenth century, many artists reacted against romanticism, which emphasized imaginary and idealized scenes. They made works about daily life, shown just as it was, without embellishment. This movement is called "naturalism" or "realism," even if the artist's style did not imitate the technical realism favored by the Academy.
The Artist
Édouard Manet (1832-1883) was a Parisian, the son of a government worker. He was friends with the Impressionist painters, and the painter Berthe Morisot married his brother Eugène. However, he preferred the naturalist style, and was influenced by Diego Velázquez and Franz Hals. Some of his most famous works created a scandal because of their eroticism : Luncheon on the Grass (1862) and Olympia (1863). His last major painting was A Bar at the Folies-Bergère (1881-82), a work that was sympathetic to a barmaid in the bohemian world of Montmartre.