Edgar Degas, The Milliners, c. 1898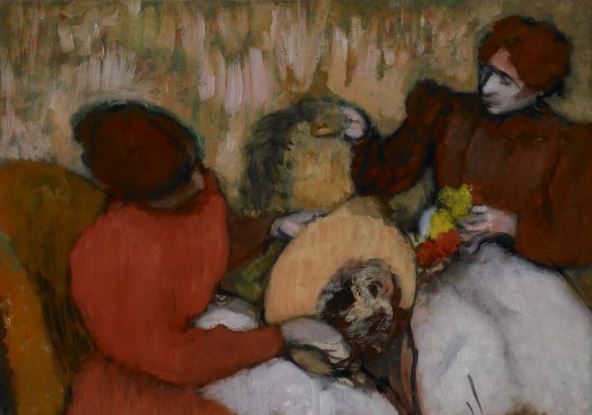 The Work
This painting shows two milliners, women who are making hats for fashionable ladies. The large flat surfaces of their dresses and aprons, and of the hat in the middle, draw our attention to the intense colors. The individual identity of these women does not seem to be important, and the face of the woman on the left is almost completely hidden. However, the lively color of her red dress suggests that she has a bold spirit, and also that she is an artist, in the realm of making hats.
Historical Moment
At the end of the nineteenth century, women who worked as milliners came from a low social class, and could neither buy nor wear the decorative hats that they made for women who were more wealthy. A successful milliner could become the owner of a shop, but the work of making the hats was difficult and poorly paid.
The Genre
The movement of expressionism uses geometric forms and bright colors, sometimes leaning towards abstraction. In contrast with impressionism, artists did not seek to capture visually a moment of life, but rather to suggest an emotional aspect of the subject. The style of this painting is close to what we often associate with Cézanne or Manet.
The Artist
Edgar Degas (1834-1917) was the son of a banker. Early on, he studied law. His artistic training was in a neoclassical style, but later he became allied with the Impressionists, especially in his pastel works. Racehorses and ballet dancers were frequent subjects for Degas, because of their elegant form and movement. From the 1880s onward, Degas began to lose his sight, and he became more and more interested in sculpture.