Edgar Degas, Galloping Horse, c. 1889-90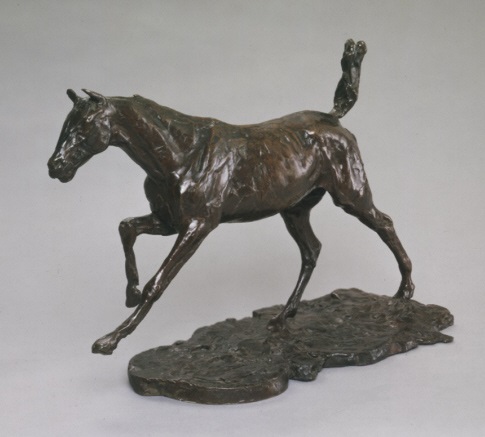 The Work
During this time, France was under the Second Empire, ruled by Napoleon III. The 1860s were a period of prosperity and economic development, which sustained the careers of many artists.
Historical Moment
The years between 1885 and 1900 are called the "Belle Époque" (beautiful era) of Paris, because of relative prosperity and enjoyment of the arts. Horse races were a popular entertainment, and wealthy men often had their own horses and professional jockeys. They liked to bet on the races, sometimes winning or losing fortunes.
The Genre
Impressionist artists sought to capture a moment of life as it was lived. We do not often associate sculpture with impressionism, but Degas provides the exception.
The Artist
Edgar Degas (1834-1917) was the son of a banker. Early on, he studied law. His study of art was in a neoclassical style, but later he became allied with the Impressionists, especially in regard to his pastel works. Racehorses and ballet dancers were frequent subjects for Degas, because of their elegant form and movement. From the 1880s onward, Degas began to lose his sight, and he became more and more interested in sculpture.