Charles-François Daubigny, Banks of the Oise at Auvers, 1863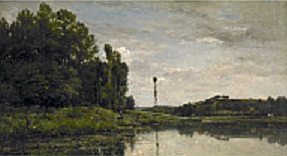 The Work
This landscape is an example of the style of the "Barbizon School." This was a group of painters who loved to paint outdoors, with nature as their favorite subject. Here we see a very calm river reflecting the colors of the green trees and the light blue sky. A single, very thin tree creates a vertical line in the center. There are people present, but they are almost invisible, and their activity of fishing or walking adds to the tranquillity of the atmosphere.
Historical Moment
In 1863, France was under the reign of Napoleon III, and Daubigny exhibited this painting in the Paris Salon. In that same year, the "Salon of the Refused" showed works by artists whose works had been refused by the Academy, including Manet, Pissarro, and Fantin-Latour. Daubigny sold this painting in 1867 to Monsieur Périer, the deputy mayor of Épernay, and the painting stayed in the same family until 2007.
The Genre
Around the middle of the nineteenth century, many artists reacted against romanticism. They made works about daily life, shown just as it was, without embellishment. This movement is called "naturalism" or "realism." The Barbizon School, which was inspired by nature as it appeared in real life, became a forerunner of Impressionism.
The Artist
Charles-François Daubigny (1817-1878) had a father and an uncle who were both painters. He was influenced by Camille Corot and Gustave Courbet, and he is considered to be one of the greatest naturalist painters of the 19th century.