Camille Pissarro, The Bell Tower of Bazincourt, 1885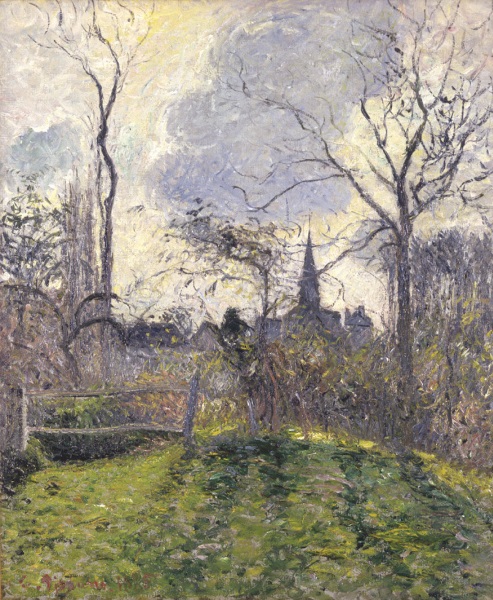 The Work
This scene represents the village of Bazincourt-sur-Epte, in Picardy, near Éragny-sur-Epte where Pissarro lived after 1884. We see the belltower of a church, reduced to a shadowy silhouette in front of a luminous sky. The church is seen through thickets and treets, suggested by waving brushstrokes.
Historical Moment
During a period of relative peace and prosperity, France was preparing to celebrate the centennial of the beginning of the French Revolution, in 1889.
The Genre
The impressionist movement was a revolt against the academic tradition. Instead of representing objects in a realistic manner, with precise lines and perspective, artists sought to capture a moment of experience as it was lived. They left the studio to paint outdoors, and tried to re-create effects of light with soft brushstrokes and bright colors.
The Artist
Camille Pissarro (1830-1903) was born on the island of St. Thomas in the Antilles, which was a Danish territory at the time. His father was a French citizen of Portuguese heritage, and was a hardware merchant. As a young man, Pissarro left the family business to study art in Paris, from 1855 onward. He was a student of Corot and a friend of Cézanne, Seurat, Gauguin, and Monet. During his lifetime, he was never very successful, but some of his painting are viewed today as masterpieces of impressionism and pointillism.