Adolphe-William Bouguereau, Peace, 1860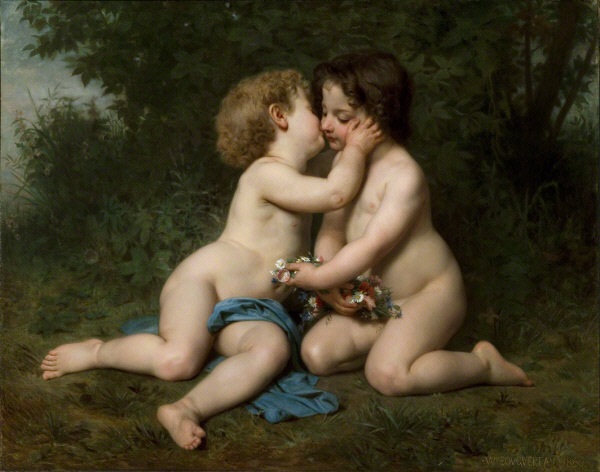 The Work
This painting shows two young children, a boy and a girl, in a forest setting. Their nudity evokes mythological allegories, but they do not directly represent known figures. Instead, it is their affectionate relationship which suggests the title of the painting. There is a companion painting, in a museum in Mexico, called War, in which two different children, also a boy and a girl, are fighting over a piece of fruit.
Historical Moment
At this time, France was governed by the Second Empire of Napoleon III. The 1860s were a period of prosperity and economic development, which supported the careers of many artists. This painting enjoyed great success at the Paris Salon of 1861, at which it was exhibited.
The Genre
Allegorical painting became popular in the 16th century among artists of the School of Fontainebleau. These subjects were also frequent in the 17th and 18th centuries, which gave them historical significance. The familiar genre and the realistic technique reflect the traditional values of the Academy of Fine Arts, sometimes called the "academic style."
The Artist
Adolphe-William Bouguereau (1825-1905) was born in La Rochelle, the son of a wine merchant. He entered the Paris School of Fine Arts in 1846, and became a professor there in 1888; in 1876 he was named to the Academy of Fine Arts. He was very successful among American art collectors. His work was so closely associated with the Paris Salon that the painter Cézanne called it the "Bouguereau Salon," which was not intended as a compliment.