Virgin and Child, c. 1320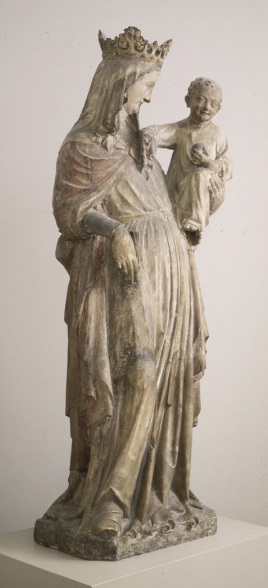 The Work
This limestone sculpture came from the chapel of a seminary for educating priests, in the town of Meaux, east of Paris. The sculpture still has traces of paint and gilding, and it is larger than life size (6 feet 2 inches). The Virgin Mary looks at her son with a slight smile; the infant Jesus tugs on his mother's hood with his right hand, and holds a fruit in his left hand that may be an apple. The Virgin is wearing a crown, and she holds in her right hand a bundle of thin stalks from which the heads of flowers may be missing.
Historical Moment
In the Middle Ages, the decoration of a church or important chapel attempted to reproduce the kingdom of Heaven on earth. Artistic decoration such as sculpture and stained glass windows sought to put the devout believer in visual contact with the holy persons and the splendors which would be encountered during eternal life.
The Genre
Church sculpture was sometimes large, so that viewers could see it more easily, and to suggest that the person represented was more important than an ordinary mortal. Images of Christ as a child and of the Virgin Mary could be emotionally touching, evoking the universal bond between mother and child. In some cases, the artist invites the viewer to be amused by the baby's childish behavior.