Container, after 1250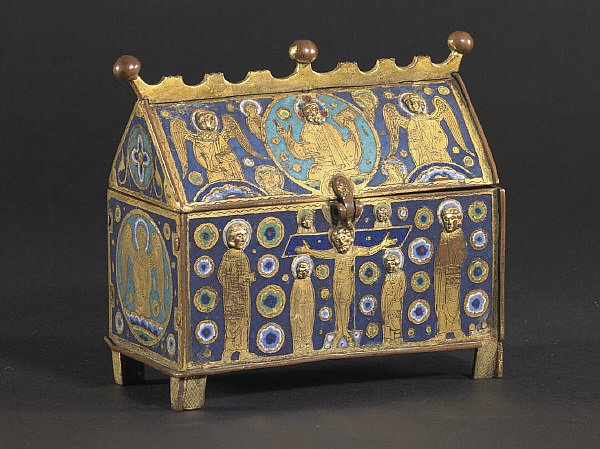 The Work
This box of enameled metal is very small. The main panel on top shows an image of Christ reigning in majesty in Heaven, surrounded by angels, and below that we see a scene of the Crucifixion, with Christ and the saints. The rest of the box shows images of angels. The religious decoration suggests that this box was used for keeping a rosary or a small prayer book. The upper part of the lid suggests the form of a crown, but this probably refers to Christ, rather than to the person who had commissioned the box.
Historical Moment
In the Middle Ages, religion was the principal subject of art in private houses, as in churches. People wanted to own objects which, in their daily use, would be reminders of Christ and his redemption.
The Genre
A coffer is a box with an attached lid, that can be locked with a key. Large coffers were used to hold items of value in a noble residence, such as objects of silver and gold or fine fabrics, and a small coffer was used to hold something small, such as jewels or a religious relic.