Juste-Aurèle Meissonnier, Pair of Candlesticks, v. 1740-50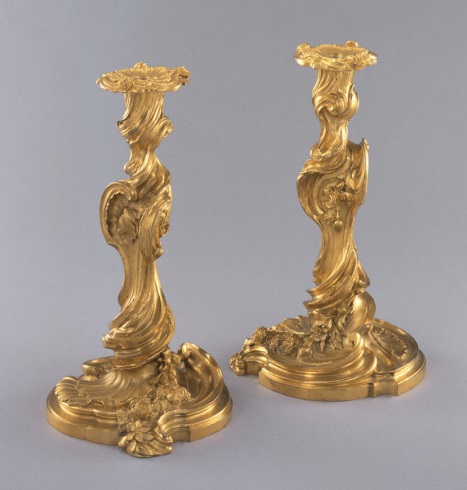 The Work
This pair of candlesticks has the appearance of solid gold. Their curved lines seem to have the fluidity of flowing water. We see flowers, seashells, and scroll-shaped decoration. The horizontal decoration on top, called a "bobeche," keeps the candle wax from melting on to the tablecloth.
Historical Moment
Louis XV (1710-1774) reigned during a time of peace and prosperity. Nobles commissioned works from artists who transformed everyday objects into objects of luxury, because of their visual beauty as well as their high price.
The Genre
In the decorative arts, the baroque style of the seventeenth century evolved into the "rococo" style of the eighteenth century. This was named for its frequent use of patterns from nature, such as one might find in a rock garden or "jardin de rocaille." Some of the preferred characteristics of this style included movement, delicacy, and novelty.
The Artist
Juste-Aurèle Meissonnier (1695-1750) was the greatest goldsmith and silversmith of Louis XV's royal court. He also designed porcelain soup tureens that were often embellished with the creatures found in the soup, such as rabbits or crayfish. Meissonnier's works later inspired artists of the style called "art nouveau," such as Hector Guimard, in the late nineteenth and early twentieth centuries.