Joseph Vernet, A Harbor in Moonlight, 1787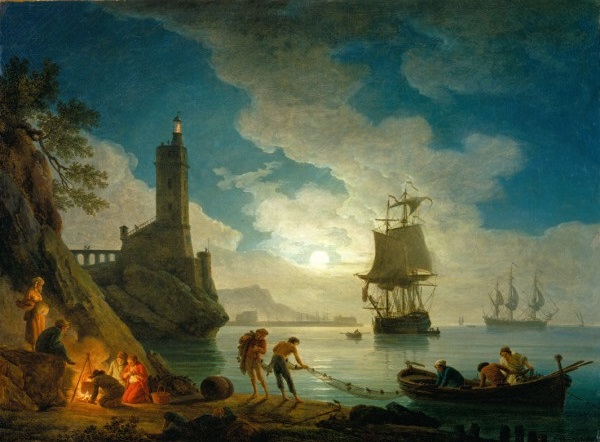 The Work
The subject of this painting is the port of Naples in Italy. We see a large sailing ship and a lighthouse, lit up on top of a cliff. The intense blue of the sky and the gray clouds suggest the hour of twilight. The small scenes of fishermen on the right and people around a campfire on the left, preparing the evening meal, introduce an element of the picturesque. The full moon is almost in the center of the painting, and its reflection is seen in the water.
Historical Moment
Maritime scenes were a reminder of the importance of travelling by ship in this era, for commerce and for colonial expansion. France had territories in Canada and Louisiana. Aristocrats enjoyed scenes of working life, as long as they were idealized.
The Genre
Romanticism was a movement that began near the end of the 18th century and had its highest point in the 19th century. Artists sought to engage the viewer's emotions with exotic settings and dramatic effects of color and light. The image sometimes told a familiar story from literature, and the word "romantic" derives from the word "roman" in French, meaning "novel" in English, a literary work of fiction.
The Artist
Joseph Vernet (1714-1789) anticipated romanticism in his works. The luminous atmosphere of his paintings evokes the sublime. Vernet specialized in maritime scenes, with precise detail of the ships of his time.