Jean-Honoré Fragonard, The Laundresses, c. 1756-61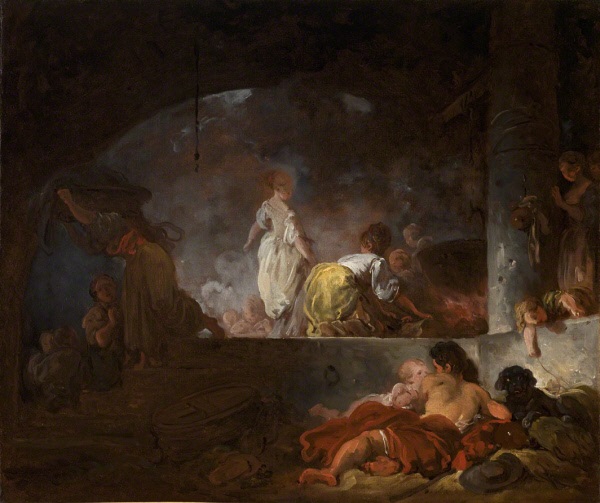 The Work
This painting shows a group of women doing laundry. It is a scene of daily life that could take place in any noble residence, but which was not seen by the aristocrats who lived there. In the foreground of the painting, on the right, children are playing, undressed because of the heat. On the left, a woman who is almost invisible in the shadows is carrying a basket. She is observed by another, older woman. In the background, several women are tending to the fire and the cauldron of water.
Historical Moment
The subject of this painting is not directly connected to political events, but one might have said later on that it reflects the extreme divisions among the social classes that existed under the Old Regime. Some nobles took advantage of their social position to violate rules of propriety in regard to those who were poor. This seems to be suggested by the detail of the young man with the red cloak, who is playing half-naked with a much younger child.
The Genre
Many artists such as Jean Siméon Chardin or Jean-Baptiste Greuze were interested in scenes of daily life, to which they gave a romanticized aspect. The peasants or servants seem to be in good health, the work does not appear difficult, and there are often small amusing details, such as here, with the child on the right who is trying to capture the dog's attention.
The Artist
Jean-Honoré Fragonard (1732-1806) was a student of Jean Siméon Chardin and of François Boucher. He received the Grand Prize for painting from the Royal Academy of Painting and Sculpture in 1752. He became very successful for erotic paintings such as The Bathers and The Swing. He became a favorite painter of Madame du Barry, the last important mistress of Louis XV.