Jean Fauche, Ewer and Basin, c. 1740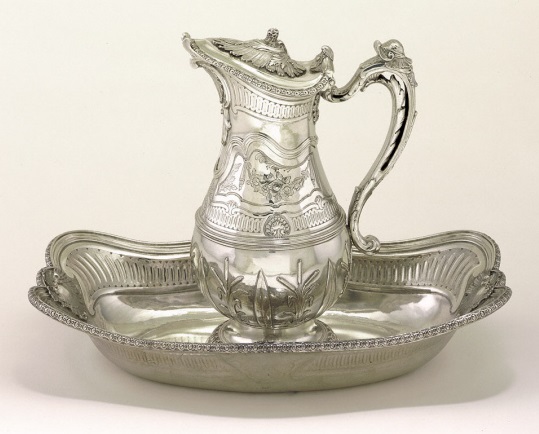 The Work
This ewer (pitcher) and its matching basin are created out of curved and fluid lines. The decorative elements, such as seashells, reeds and cat-tails, have a thematic harmony which suggests that these objects are for use in washing one's hands and face.
Historical Moment
Louis XV (1710-1774) reigned during a time of peace and prosperity. Nobles commissioned works from artists who transformed everyday objects into objects of luxury, because of their visual beauty as well as their high price.
The Genre
In the decorative arts, the baroque style of the seventeenth century evolved into the "rococo" style of the eighteenth century. This was named for its frequent use of patterns from nature, such as one might find in a rock garden or "jardin de rocaille." Some of the preferred characteristics of this style included movement, delicacy, and novelty.
The Artist
Jean Fauche (c. 1706-1762) was a master silversmith from 1733 onward, and he worked in Paris. Another example of this ewer and basin is in the collection of the Museum of Metropolitan Art in New York City.