Jean-Baptiste Joseph Pater, Repose in a Park, early 18th century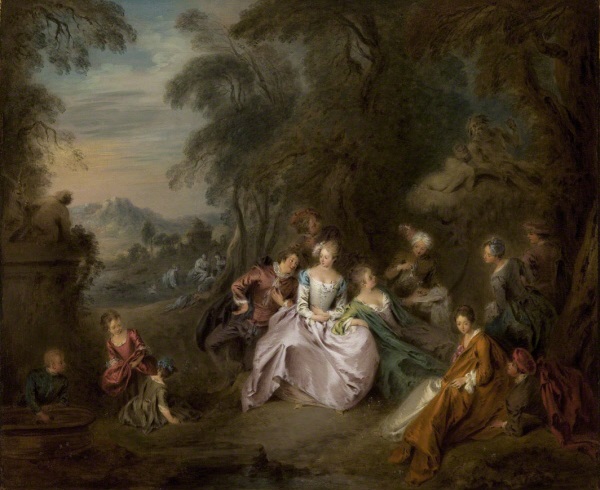 The Work
This painting represents a group of people relaxing during a walk in the park. The group includes several couples and some children playing on the left. In the background, we see another group doing the same thing. On the left and right, there are statues, so this is not a natural forest, but the park of a noble estate. The strongest light falls on the lady in the center. She is turning her back slightly on the admirer who is leaning towards her, but she seems to be listening to him just the same.
Historical Moment
When King Louis XIV died in 1715, the young king Louis XV was only five years old. The Regent was his great-uncle Philippe, Duke of Orléans (1674-1723), who was very fond of flirtatious amusements and the arts of music and painting. Artists responded to the court's taste with images that were sentimental and light-hearted.
The Genre
Idealized landscapes, in which young couples in love are shown relaxing in the outdoors, were a popular genre, often called the "fête galante." The characters are often imaginary, such as shepherds and shepherdesses, but they resemble nobles in the elegance of their bodies, gestures, clothing, and hairstyles. In addition, the painting often tells a romantic story that the spectator must guess.
The Artist
Jean-Baptiste Pater (1695-1735) was the son of an artist and the student of Antoine Watteau, a painter famous in the style of the "fête galante." Pater was accepted as a member of the Royal Academy of Painting and Sculpture in 1728.