Henri Auguste, Tureen and Stand, 1797-98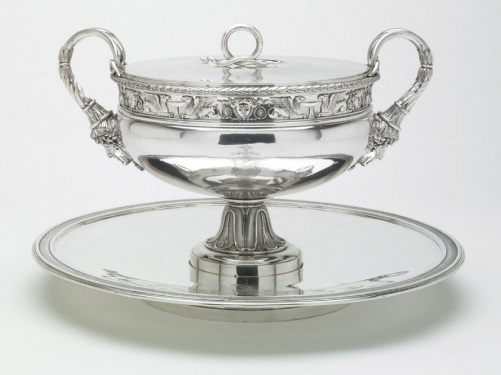 The Work
This covered soup tureen and stand reflect the taste for objects influenced by the style of Roman antiquity. The decoration includes male faces, imaginary animals, and even a snake, which forms the handle of the lid.
Historical Moment
Between the years 1795 and 1799, the new Republic of France was under the government of the Directorate, a group of five men. It was hoped that this system would avoid the possibility of a dictatorship by one man. Roman style became fashionable, both in ladies' dress styles and in decorative arts.
The Genre
In the decorative arts of the end of the eighteenth century, artists often made reference to the classicism of Roman antiquity. Columns and architectural elements were found next to cupids and mythological creatures. These objects could be pleasing to clients whether their feelings were royalist or republican.
The Artist
Henri or Henry Auguste (1759-1816) was a master silversmith in Paris. He created works for King Louis XVI and later for Napoleon.