François Boucher, The Dovecote, 1758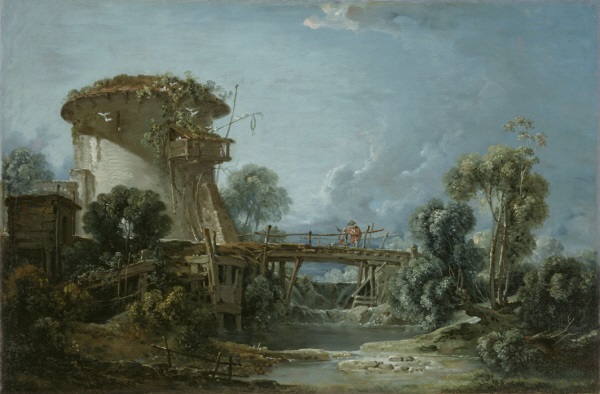 The Work
This painting shows an idealized landscape, with a large dovecote on the left, from which several doves are emerging. In the center, a man and a child are on an old footbridge. The child is gesturing toward the building, which suggests that it is the subject of their conversation. The dove is a bird that symbolizes peace. In the Bible, a dove returned to Noah's Ark with an olive branch. It also represents the Holy Spirit.
Historical Moment
King Louis XV (1710-1774) reigned during a period of peace and prosperity. Between 1745 and 1765, his favorite mistress was Jeanne-Antoinette Poisson. She was a married woman from the middle class, and he gave her the title of Marquise de Pompadour. She was educated, intelligent, and charming. She supported writers such as Voltaire, Diderot, and Montesquieu, and encouraged many artists.
The Genre
Many artists in the eighteenth century imagined romantic landscapes. Here, the natural elements, such as the trees and a stream, form a harmonious composition. The blue sky and the clouds are bathed in sunlight, and the soft color palette of blues and greens creates a peaceful atmosphere.
The Artist
François Boucher (1703-1770) was an artist often associated with rococo style, but he also had considerable talent in many other artistic genres. He painted landscapes in the style of Claude Lorrain, mythological scenes, and erotic paintings. Admitted to the Royal Academy of Painting and Sculpture in 1734, he became Madame de Pompadour's favorite painter, and he made several portraits of her in a precise and realistic style. He was named King's First Painter in 1765, one year after the death of Madame de Pompadour.