François-André Vincent, Arria and Paetus, 1784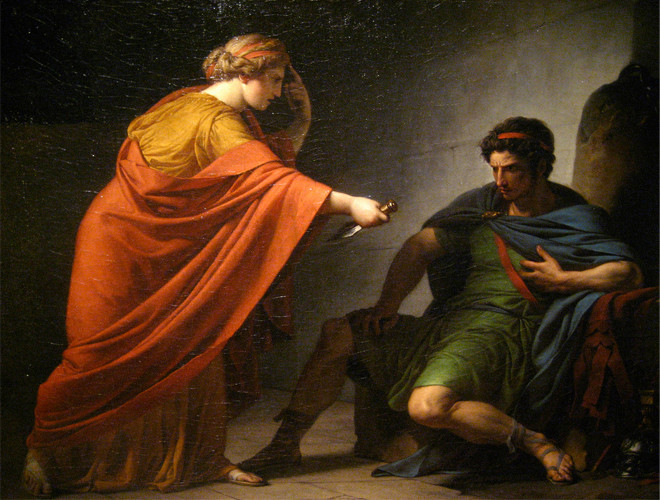 The Work
The subject of this painting is the confrontation between a Roman general, Paetus, and his wife Arria. Paetus had been part of an attempted revolt against the Emperor, but it had failed and he is now a prisoner. Arria visits him in prison, and tells him that honor demands that he commit suicide rather than suffer this humiliation. When her husband hesitates, she demonstrates courage by killing herself. The first name in the work's title, and the more central character in the painting, is Arria.
Historical Moment
The French Revolution had not yet begun, but there was already strong public feeling against the monarchy. For Royalists, this painting could have represented a moral lesson about what might happen to traitors, but critics of the government could see in it an example of the courage of those who stand up to tyrants.
The Genre
Since the Renaissance, the most prestigious paintings were those that dealt with mythological or historical subjects, called "history paintings," usually in a large size. Painters of the 17th-century baroque period added elements of movement and contrast between light and dark, to make the subject more dramatic. This type of painting remained popular in the 18th and 19th centuries, and often won awards in artists' exhibitions.
The Artist
François-André Vincent (1746-1816), the son of a painter, won the Rome Prize in 1768, and was admitted to the Royal Academy of Painting and Sculpture in 1777. He was considered the leader of the neoclassical school of painting, and was the major rival of Jacques-Louis David (1748-1825). He was named a Professor at the Paris School of Fine Arts in 1792. At first he had royalist leanings, but after the Revolution he was named as one of the first members of the Academy of Fine Arts of the Institute of France, which replaced the Royal Academy in 1795.