Élisabeth-Louise Vigée-Lebrun, The Artist's Brother, 1773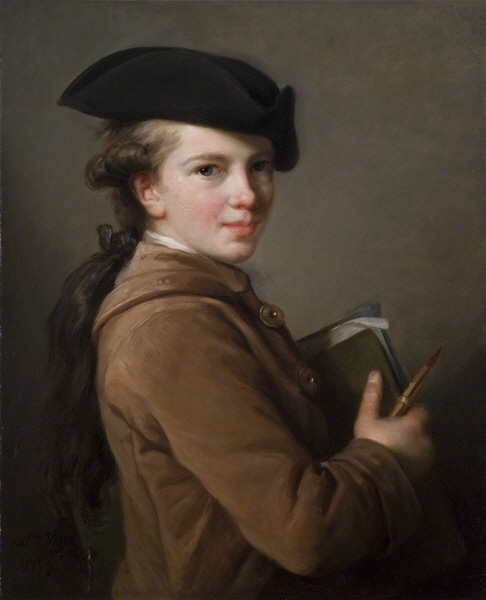 The Work
This painting is a portrait of Étienne Vigée, a young man of fifteen who was interested in literature and would later become a well-known author. The artist, who was eighteen, shows him holding a book and a quill pen or paintbrush in his right hand. The turn of his head suggests a spontaneous moment, and his smile reflects the shared affection between brother and sister.
Historical Moment
In 1770, the royal prince Louis (1754-1793) married a young archduchess of Austria, Marie-Antoinette, when he was fifteen and she was fourteen. On the death of his grandfather Louis XV in 1774, he rose to the throne at the age of nineteen, as Louis XVI.
The Genre
The realistic portrait was very much admired at the royal court, ever since the great success of the artists Nicolas de Largillière, Hyacinthe Rigaud, and Maurice Quentin de La Tour. Noble subjects were often represented in informal clothing, and the artist emphasized their personality traits rather than symbols of their wealth or social rank.
The Artist
Élisabeth-Louise Vigée-Lebrun (1755-1842) was the daughter of an artist, Louis Vigée. She established herself as a professional painter at the age of fifteen. In 1776, Mademoiselle Vigée married a distant nephew of Charles Le Brun, former First Painter of Louis XIV. Vigée-Lebrun was the same age as the king and queen, and despite being of middle-class birth, she became the official portraitist and a personal friend of Marie-Antoinette. In 1783, Vigée-Lebrun was named a member of the Royal Academy of Painting and Sculpture, an extraordinary accomplishment for a woman at that time.