Claude-Étienne Michard, Armchair, c. 1760-65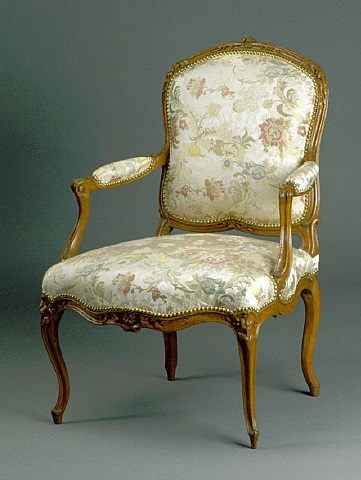 The Work
This armchair imitates a very popular furniture shape from the seventeenth century, but with new elements. The legs and arms are very delicate, as if the chair were intended for the use of a person who does not weigh very much, such as a woman. The brocade silk fabric, which is a modern reproduction, is as elegant and fragile as the fabric used for fashionable dresses of the time.
Historical Moment
Louis XV (1710-1774) reigned during a time of peace and prosperity. Nobles commissioned works from artists who transformed everyday objects into objects of luxury, because of their visual beauty as well as their high price.
The Genre
In the decorative arts, the baroque style of the seventeenth century evolved into the "rococo" style of the eighteenth century. This was named for its frequent use of patterns from nature, such as one might find in a rock garden or "jardin de rocaille." Some of the preferred characteristics of this style included movement, delicacy, and novelty. For interior decoration, an architect often worked with painters and furniture makers to assure a harmonious visual effect in every room of the house.
The Artist
Claude-Étienne Michard (1732-1794) was a furniture maker who created works for noble French families. This chair was not part of the original furnishings of the room where it is found today, a parlor of the Hôtel Gaillard de La Bouëxière in Paris, which the Saint Louis Art Museum purchased in 1929. The Museum acquired the chair in 1935, in order to furnish the room in period style.