Antoine Coysevox, Madame du Vaucel and Monsieur du Vaucel, 1712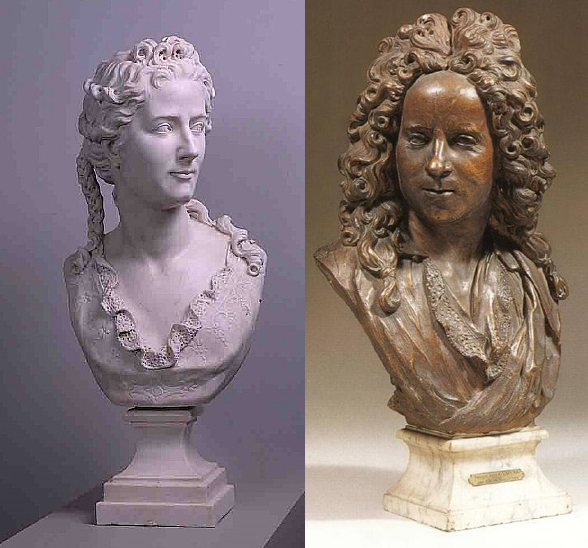 The Work
On the left, the subject of this marble bust is Madame Renée du Vaucel. A preliminary version in terra cotta is in the Louvre Museum. On the right, the subject of the terra cotta bust is her husband, François-Jules du Vaucel (1672-1739). He was a wealthy financier who later was named counselor-secretary to the King, and he also would have had a bust in marble. She is looking toward her left, and he is looking to his right, each one with a slight tender smile. They are also wearing matching clothing, her dress having a lace neckline and his shirt having similar lace on the chest.
Historical Moment
During the last years of the reign of Louis XIV (who died in 1715), the atmosphere of the court was more restrained than it had been earlier. This was partly because of the king's advanced age and partly because of the influence of his second wife, the Marquise de Maintenon, who was very religious.
The Genre
The marble bust was a reminder of the sculptures of classical antiquity, which originally represented gods and goddesses. Many nobles had their portraits done in painting, but a portrait in sculpture was even more prestigious.
The Artist
Antoine Coysevox (1640-1720) was one of the most important sculptors of the reign of Louis XIV. He made several portraits of the king, such as the low relief in stone of Louis XIV on Horseback in the Salon of War at Versailles, at the entry to the Hall of Mirrors. His bust of Louis XIV is considered the artistic rival of the famous bust executed by Bernini.