Anonymous artist, Console Table, c. 1780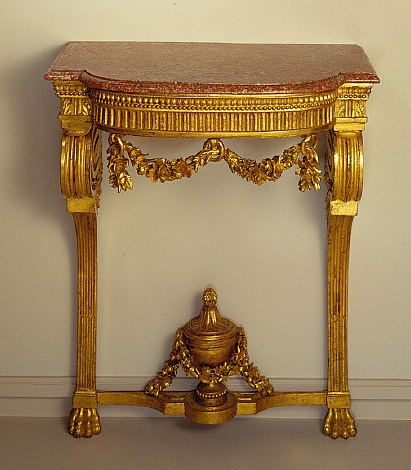 The Work
This table is called a console, which means that it rests against a wall.  It has only two legs, reinforced by a horizontal support.  A delicate garland of flowers seems to hang suspended from three rings, and another, below, embellishes an urn.  The legs of the table end in lion's paws.
Historical Moment
Around the year 1780, the court of King Louis XVI and Queen Marie-Antoinette did not anticipate the troubles of the Revolution that was yet to come.  Nobles continued to commission objects of great luxury that reflected their education and their sophisticated taste.
The Genre
In decorative arts of the end of the eighteenth century, artists often called upon the classicism of Roman antiquity.  Columns and architectural elements were found next to cupids and mythological creatures.  Artists competed with each other to imagine and create objects that could interpret historical tradition, in this case Roman antiquity, in an original and surprising way.